I have some exciting news to share…I've been chosen to participate in the Leviton Renu Challenge!
If you don't know what it is, let me fill you in.  From their blog, "The Renu Challenge is a chance for homeowners, designers and DIYers to showcase their creativity and design skills, using Renu's colorful switches, outlets and dimmers to transform any room in a snap."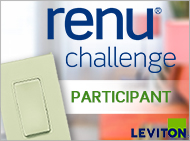 I'll be using products sent to me by Leviton to update one room in my home.  Three grand prize winners will be chosen and will receive $500 to spend in the Leviton e-store.
The space I've chosen to work on is my daughter's room.  I just shared this mood board for the space, so this contest is perfect timing!  Here are a few before shots of the space…
When these were taken, we were already in the process of taking her posters down from the walls (you can see them all on the bed) and dragging everything out of hiding to begin decluttering.  The room is small and since I don't have a wide angle lens (yet), I had to get a bit creative with the photos.  The top one is looking into the room.  The middle one is with my back to the wall on the right hand side (upon entering) looking into the room.  That hollow core door is actually an extra closet that we use for storage.  The bottom photo is with my back to that door.
I'll be back soon with more details on what we have planned for the space.  Wish me luck!