It's no secret that I love office supplies.  And almost as much as I love office supplies, I also love kitchen gadgets.  Those kitchen gadgets can be anything from utensils and plates to crock pots and pressure cookers.  My kitchen is still unfinished, and that's really for no particular reason.  I just lost steam & interest, so it's been on the back burner for quite some time.  I guess that's what happens when I'm under no particular deadline…
Anywho, I have started thinking about all of the wonderful things with which I'd like to outfit my newly updated kitchen (whenever that day comes).  Here are a few I have my eye on:
These Williams-Sonoma Pantry dishes are on the top of my list to add to our collection, particularly the cereal/soup bowls.  They're huge and really well made.  According to their website, "A superb value, our restaurant-quality porcelain bowls are sophisticated enough for entertaining yet sturdy enough for everyday dining. Perfect for serving your favorite hot or cold cereals, these versatile bowls also offer attractive presentation for ice cream and fresh fruit. Their clean, simple lines and pristine white color coordinate beautifully with other dinnerware and serving pieces, so you can mix and match them to create a wide variety of inviting table settings. Made of high-fired porcelain for exceptional durability, these pieces will provide years of memorable meals."  And get this – they're even oven safe!  I'm sold!
I guess I have a thing for bowls because another one that caught my attention are the Latte Bowls from Anthropologie.  They come in a myriad of colors.  They're the perfect size for late-night ice cream treats and impromptu cereal snacks.  What's not to love?I'm particularly fond of the charcoal gray ones.  (I'm not sure if that's because of the color or the name.  They're called 'Squid Ink'.)  But I'm leaning towards using a mix of different colors in our kitchen.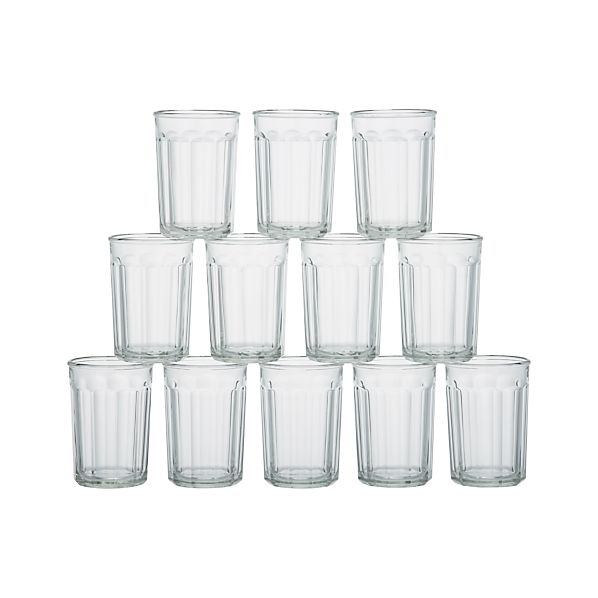 These Working Glasses from Crate & Barrel are a classic, for good reason.  They're sturdy and very functional, so I'm sure they'll fit in really well here.  Though, I'm usually the only one in our house who regularly drinks out of glasses, somehow everyone else has managed to break a lot of the ones we've previously owned.  I think these will hold up to any abuse we can manage.
I like waffles…a lot.  And I love to make waffles on the weekend.  And I'm serious about my waffles.  They must be slightly crispy on the outside and warm & doughy on the inside.  My only gripe with most waffle makers is that the clean-up is such a pain.  Cleaning between all those little grooves is one of my pet peeves.  So much so, that I bribe my family with the promise of waffles in exchange for someone else cleaning the waffle maker.  I think this Hamilton Beach model will solve that problem easily.  The plates are removable and dishwasher safe.  I call that a success!
I also really want an ice cream maker.  Granted, I'm sure I won't be making ice cream weekly, but I know I'll put it to good use.  Even though I've been wanting one for years, I still have a bit more research to do to narrow down exactly which one I want.  But when I do, I'll be making ice cream, gelato, frozen yogurt, and sorbet for days!
I could go on and on about the other kitchen gadgets I want, but I'll stop here for now.  Do you have any faves I should add to my list?